Four online modules for experienced practitioners
In this online course, you will learn from (at least) 5 real-life cases, where we, our trainees and other practitioners used the Solution-Focused approach for achieving progress with teams.
The examples offer a wide variety of how to support teams with the SolutionCircle and other formats to reach their goals and handle challenges constructively and appreciatively even in unstable situations.
One of the many examples will be based on your own real-life experience: reflect on it and develop your practice by bringing in a Solution-Focused case with a team.
I found myself in a Community of Practice containing a wide range of experience and know-how sharing. I got people to reflect on my projects in an empathic, encouraging and motivating way.
I met colleagues with a solution-focused mindset who shared their cases, questions and thoughts, which gave me insights and comparisons on how I could proceed in my work.
The different tools, ideas, aspects and shared experiences seemed to me like a rich and healthy buffet, where I could serve myself!
"Learning by doing" – the way Kati and Jesper facilitated the course, by leading us "from one step behind" amazed and fascinated me. Although I'm sure that they had a lot of things prepared, our sessions were flowing naturally, the cases presented from the participants fitted in perfectly with the sessions and they gave us plenty of room to practice.
So, whoever joins this course can look forward to a joyful, rich, easy-flowing learn-experience, flavouring your SF-practice and new study buddies to exchange, learn and reflect.
Solution-Focused team coaching focuses on developing useful descriptions of changed interactions and practical possibilities for the daily business.
By concentrating on the skills and competencies of the team members, their connections among them, any progress will be built on their strengths and resources.
Solution-Focused team coaching offers a fast, efficient and sustainable way to optimise relations, reach goals and make progress visible within a team.
Like mentor coaching…
Similar to a mentor coaching session, you will reflect on the quality of your contributions with the lenses of the Core Competencies of a team coach as defined by the International Coach Federation (newly released November 2020).
This will develop your skills for partnering with a team in a moving process.
Like supervision…
As in a supervision session, you will align your purpose as a team coach with the actions you take in your work with teams: you will study how your use of language and designing the process backs your aims in your work.
Because of the complexity of working with teams, such a check-up on our aims and presuppositions is a productive and necessary developmental tool for us practitioners.
Review a work…
While reviewing a piece of work alongside the clues for Solution-Focus, you will reflect on your ways to act within the SF paradigm. Practical evidence shows we are, when using this approach, less likely to disturb teams in their useful self-organising around goals and hopes – or at least disturb them in a useful way.
Simultaneously, we build willingly appreciative relationships. It is our aim in this course to encourage us team coaches in staying within the Solution-Focused paradigm.
You can also count on Katalin's favourite and newest formats for organising useful interactions in teams AND some glimpses on the possibilities to coach teams just by navigating in the Dialogic Orientation Quadrants (Haesun Moon) by Jesper.
Apart from the overall inspiration I've got from the cases, it's also the different way of thinking and asking questions that is significant in this training. And all the small nuances I get to know when we share our stuff with each other.
It's reinforcing and refreshing to listen to the other participants and get to know how they are doing team coaching. It was reassuring and confidence building. 
Taking part in the training online is a tremendous help because then I experienced how team coaching works virtually. Also to experience that it's much more than just people on a screen.
It is amazing that it's going on online. I would never get to be in a room so easily with so many experts from so many different domains thank you for this easygoing way of meeting online!
Technology can seem like a very complicated or very fancy as professional frame. At the same time, we are inviting each other into our homes. You made it very easygoing by this transparent facilitation.
…a manager, team leader, coach or a consultant and work with teams regularly.
You want to broaden your repertoire of ways to be even more flexible and professional in your work.
Dates
Please mail us for upcoming dates.
Please note that there will be some work before the course begins and in between the modules.
Your investment
€ 500 *
* VAT may be applied if invoiced to a person or company with a Danish company address or a person within the EU who does not have a European VAT number.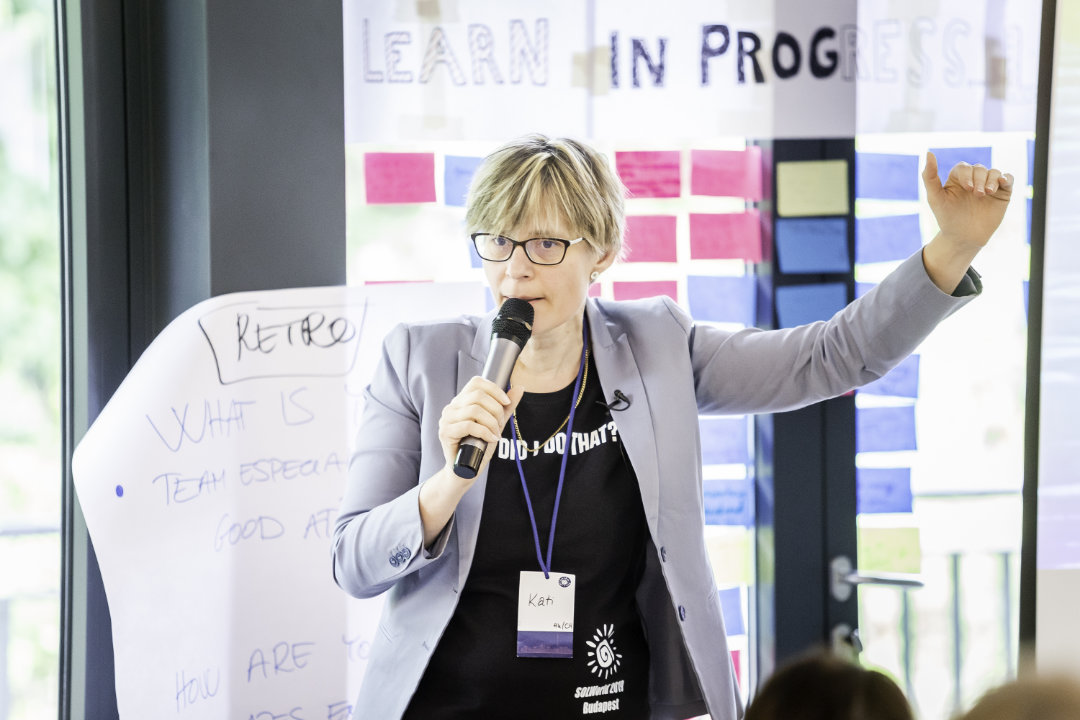 Katalin Hankovszky
M.A., ICF Professional Certified Coach, mentor and trainer
With a background in philology and educational sciences, she has worked independently since 1995. Based and working in Switzerland, being part of Solutionsurfers from the very beginning, she is leading Solutionsurfers Hungary and has offered coach training in Hungary since 2010, with activities in consultancy and book publishing.
Her primary interest is how we learn from our work and how we can make useful what we have learned, for the next client.
Jesper H Christiansen
Kaospilot, ICF Professional Certified Coach and trainer
Jesper has been working as an independent consultant since '97 after his graduation as Kaospilot. Since 2004 he added on the solution focused approach, became a coach and a Solutionsurfers trainer. Ever since he has used this mindset in all areas of his work.
From the Simply Life podcast with Elfie Czerny & Dominik Godat, episode 82.
About using solution focus everywhere.
Solution Focused Team Coaching focuses on developing solutions and practical steps to execute in the daily business. By concentrating on the skills and competencies of the team members, any progress will be built on their strengths and resources.
This webinar was organised by ICF Denmark.
Listen to kati
From the Simply Life podcast with Elfie Czerny & Dominik Godat, episode 62.
About connecting people: how do you do it?